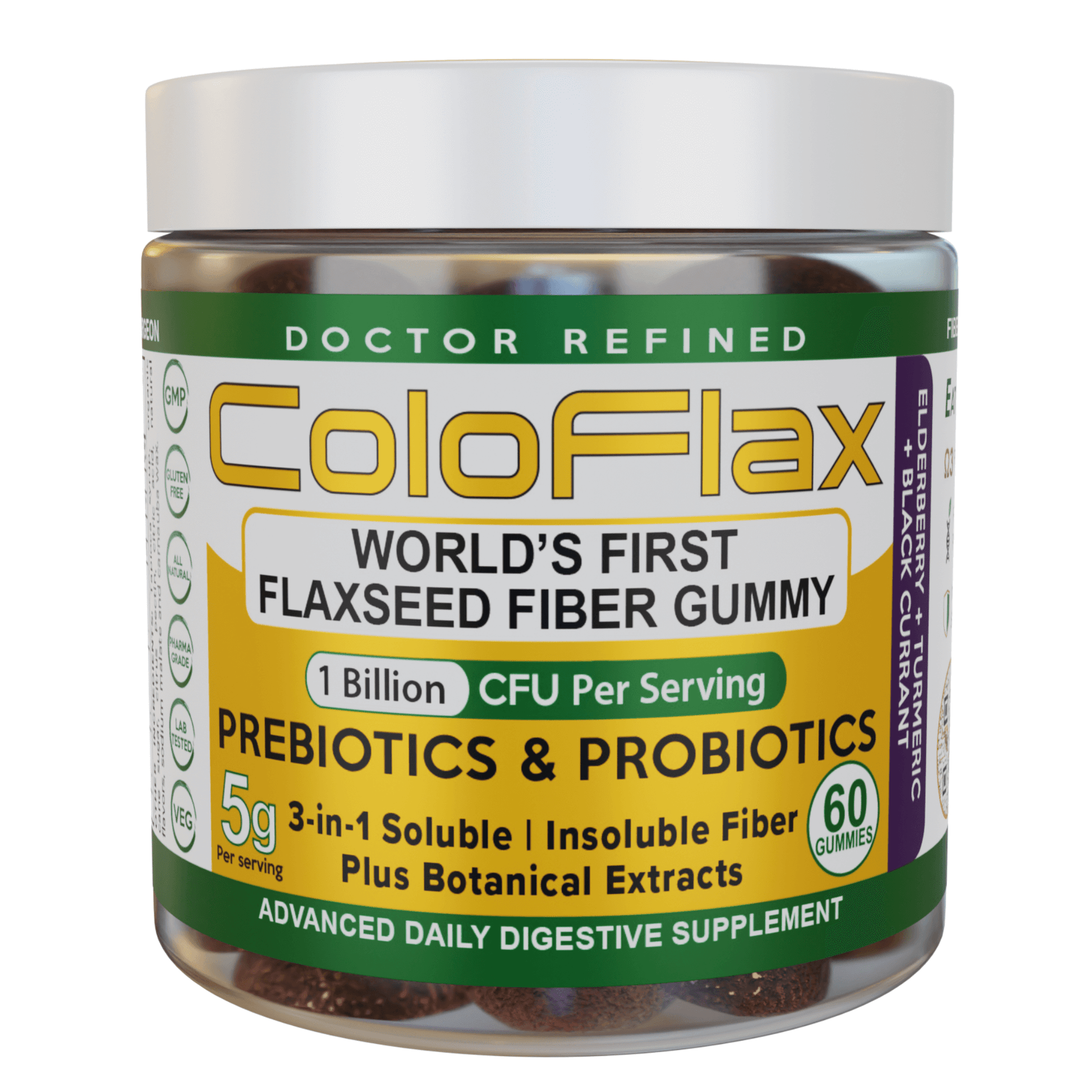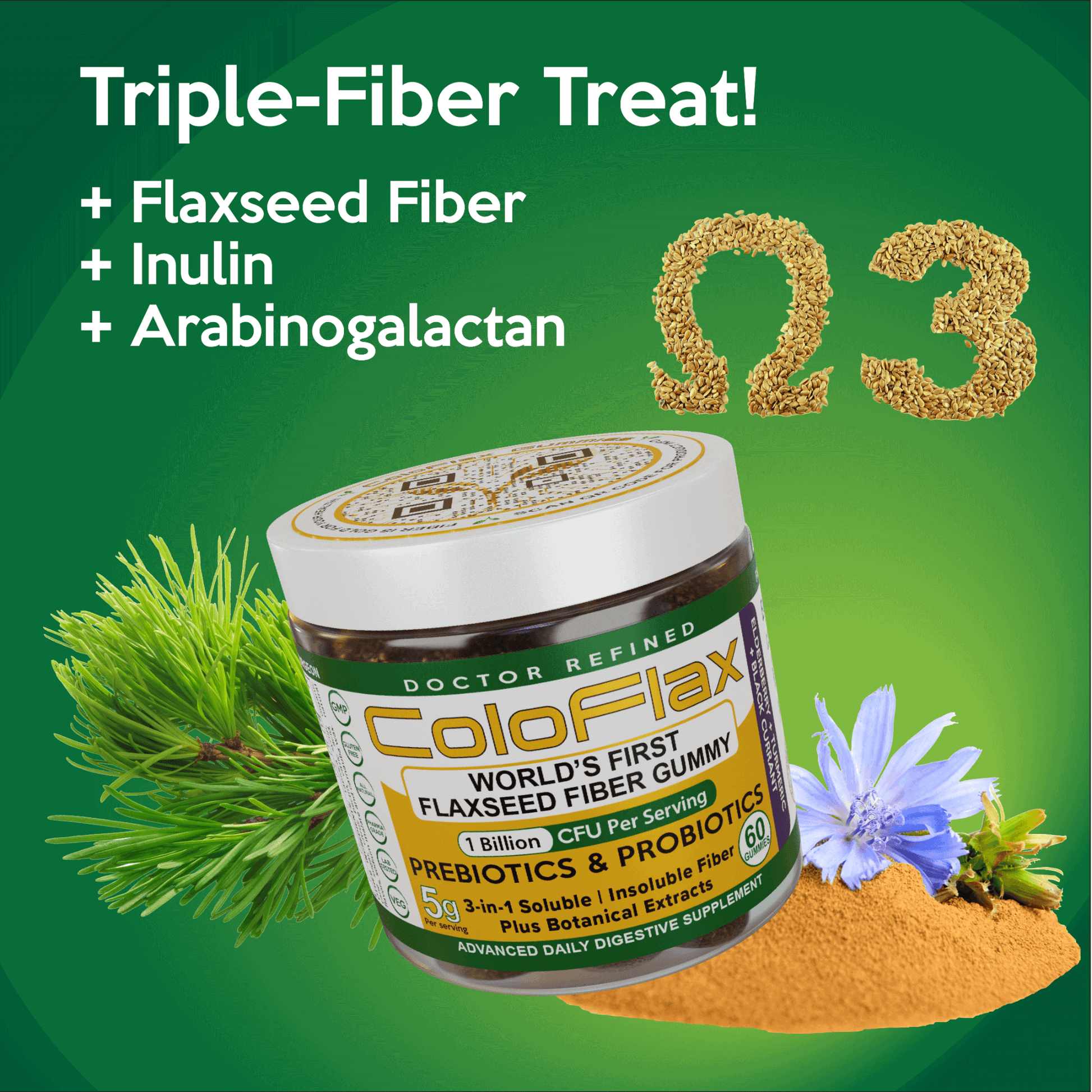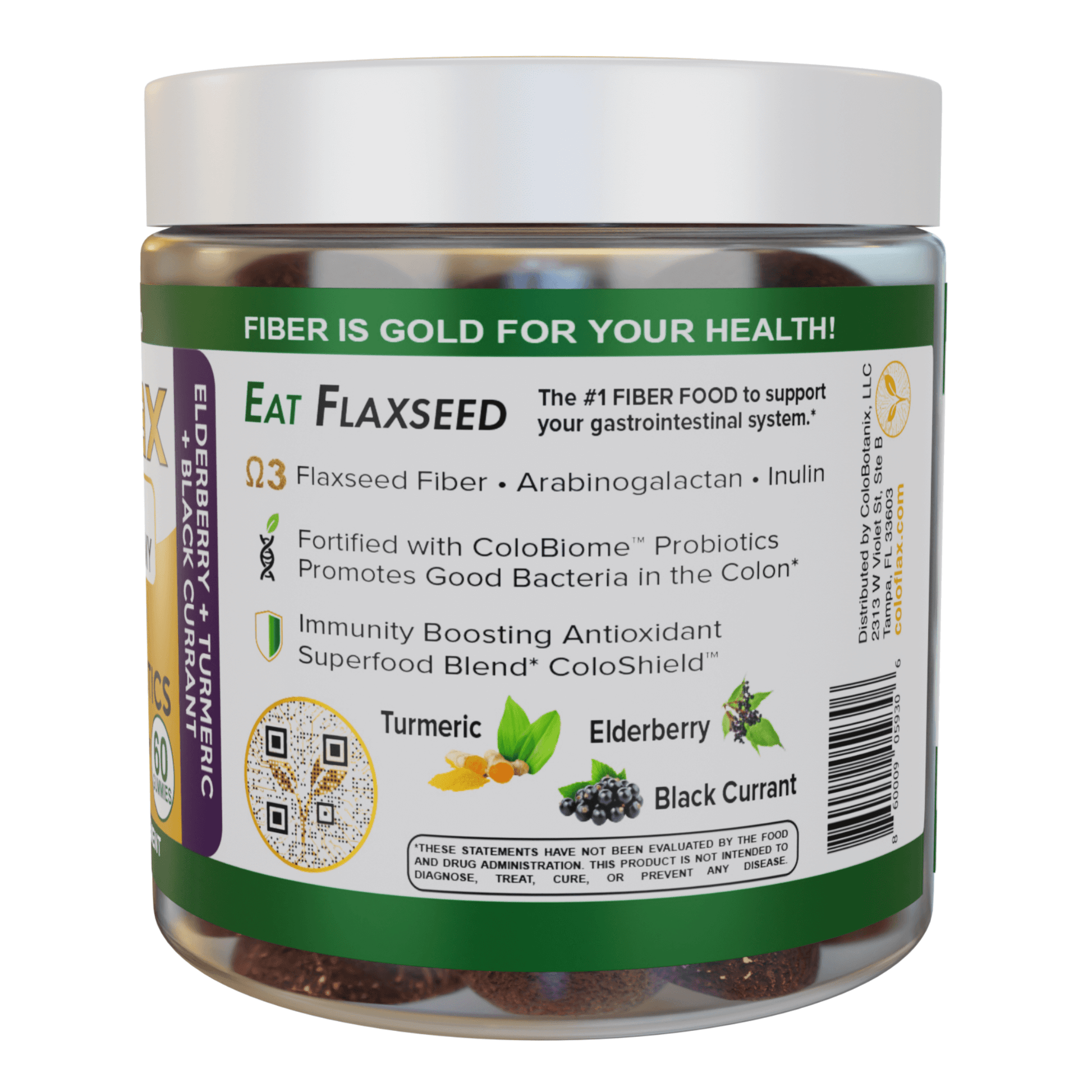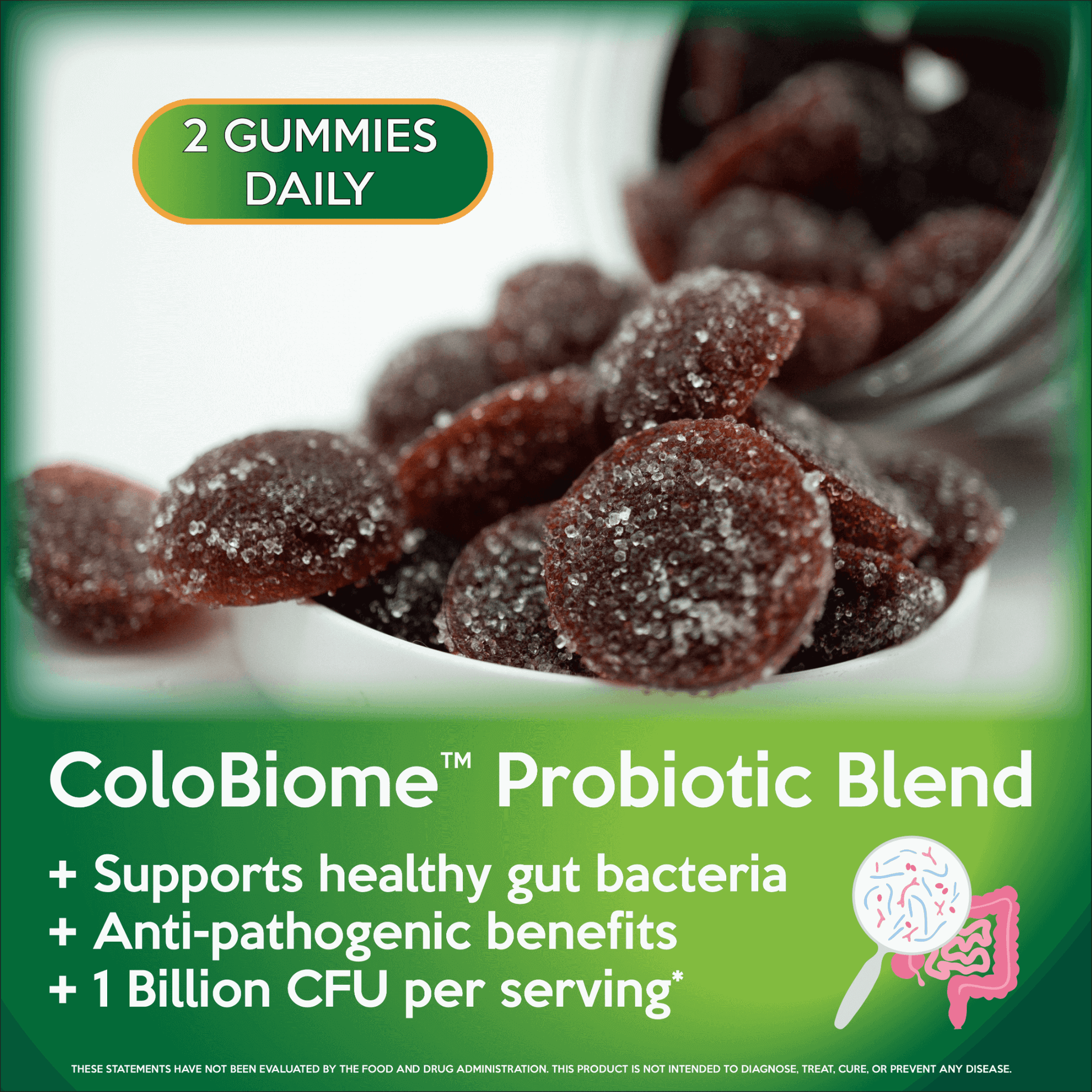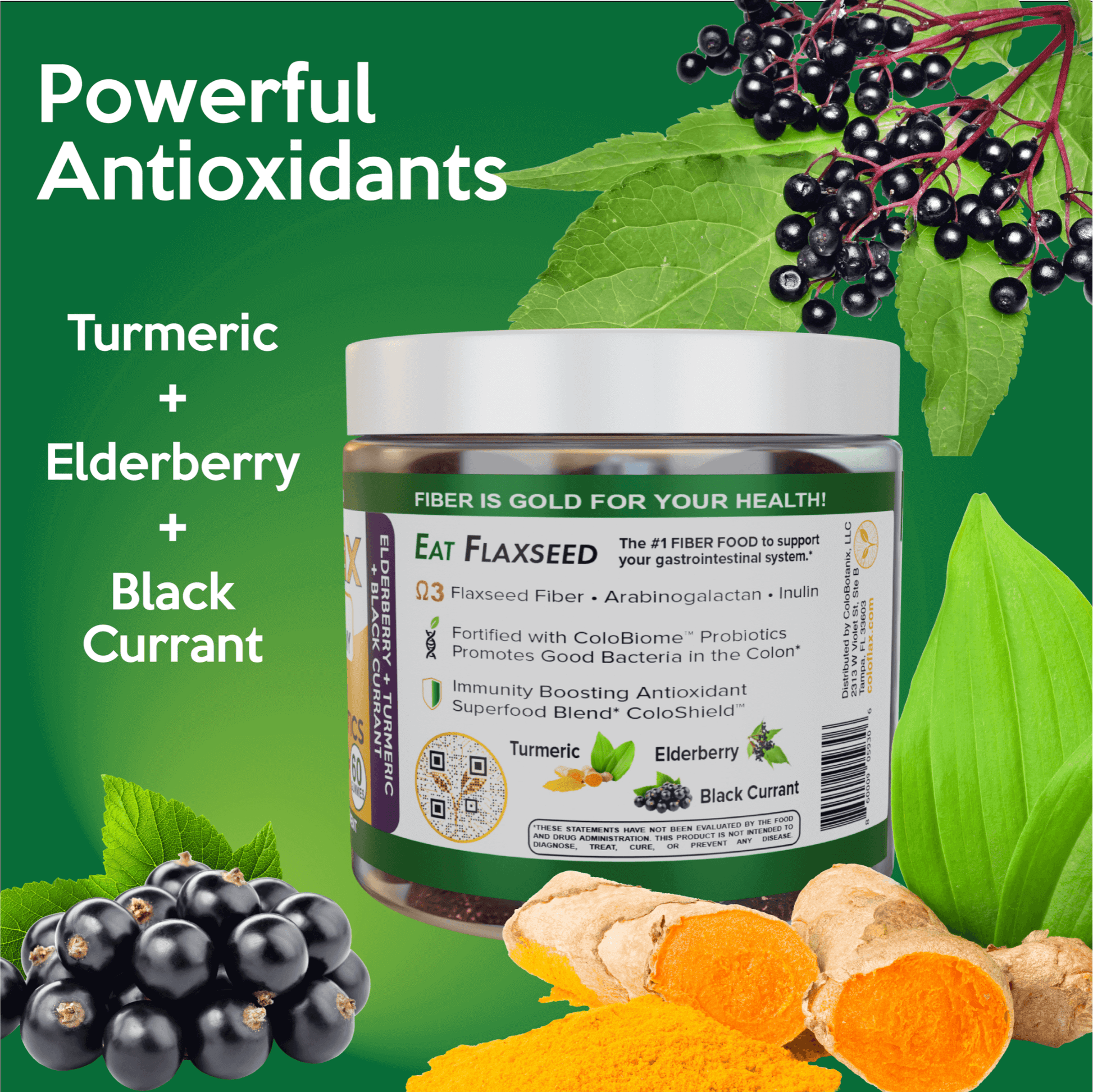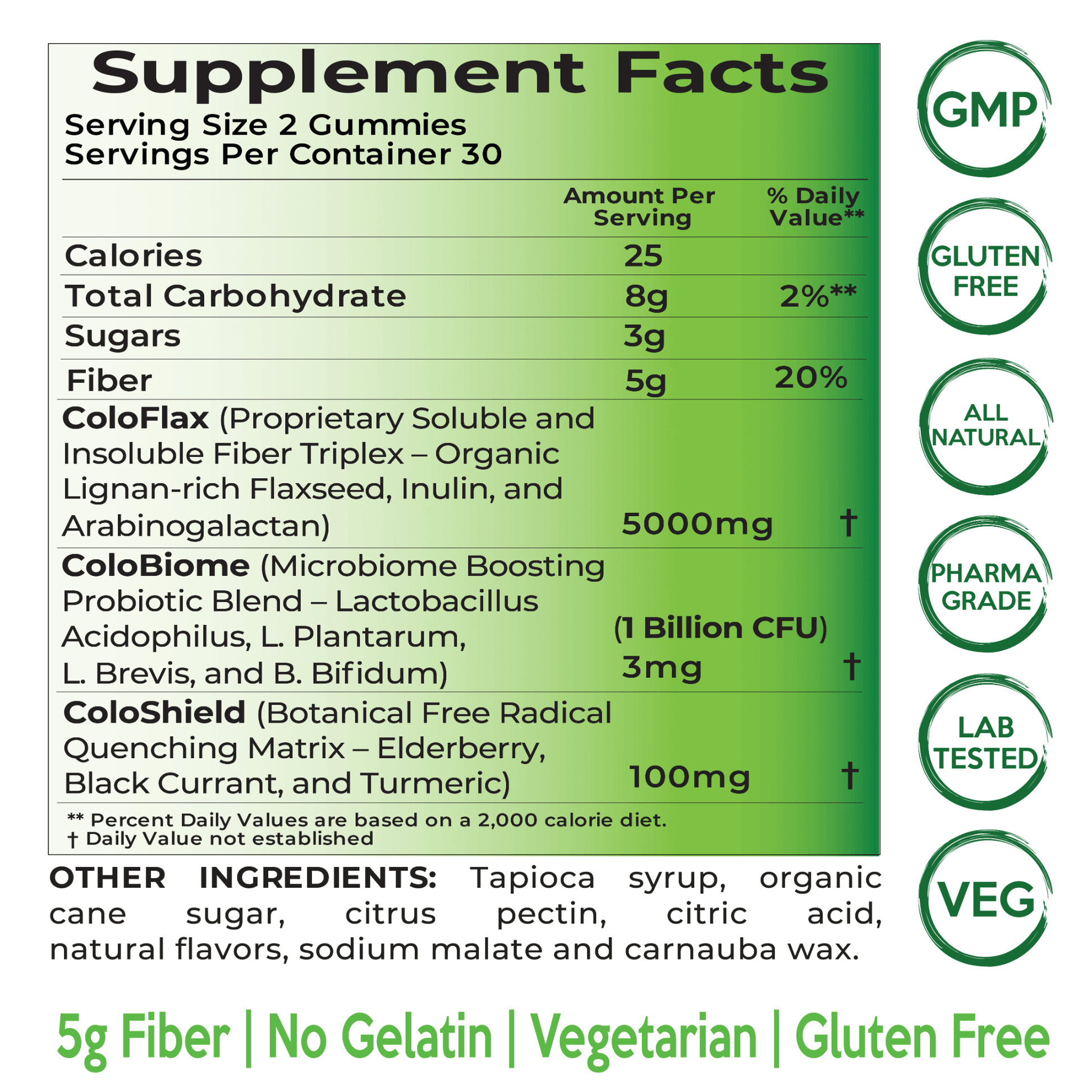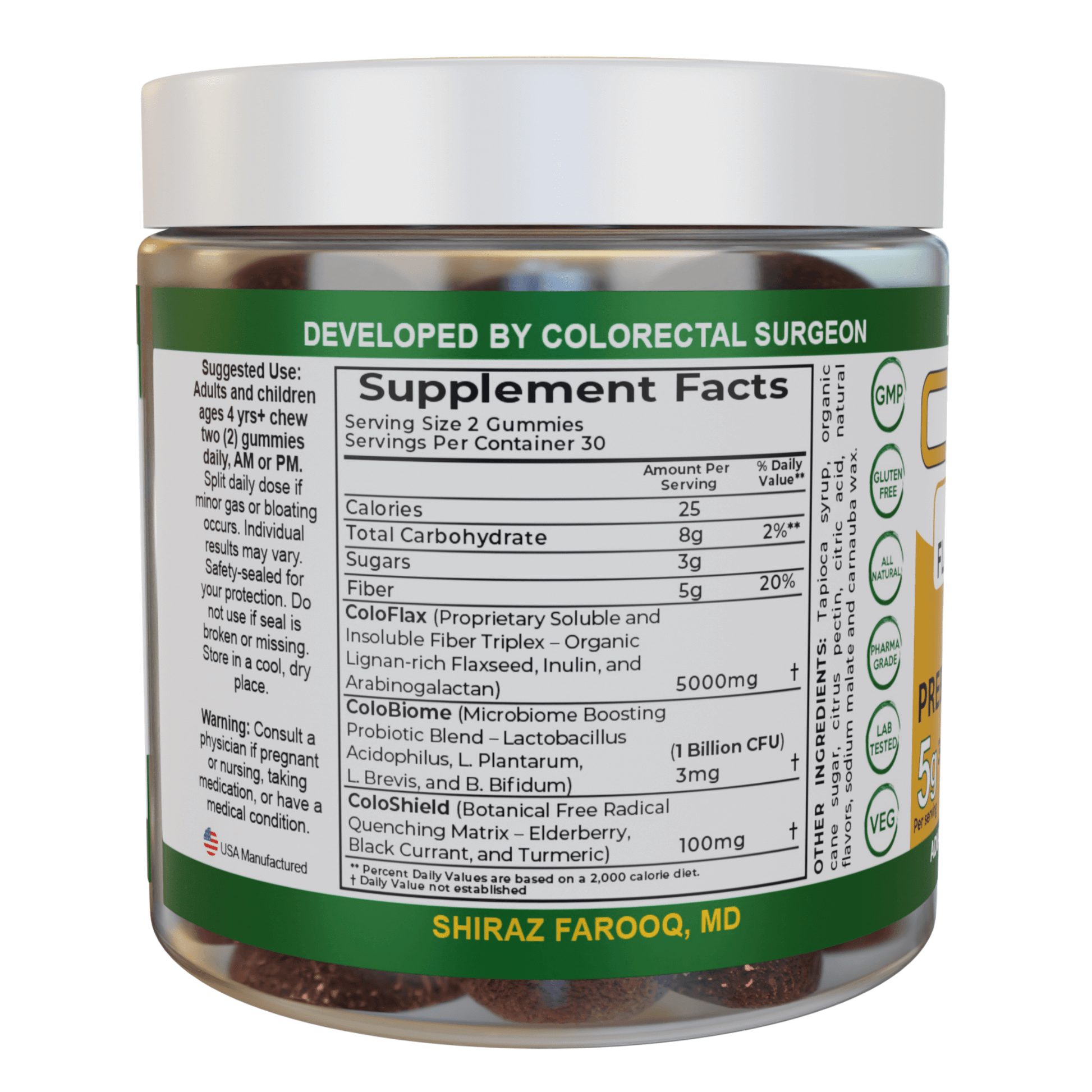 ColoFlax Flaxseed Fiber Gummies, Elderberry, Turmeric and Black Currant flavor (Gluten-Free)
Translation missing: en.products.product.price.regular_price
$29.99
Translation missing: en.products.product.price.sale_price
$29.99
Translation missing: en.products.product.price.regular_price
FREE Shipping on $100+ Orders (within the continental US)
All About ColoFlax Gummies
Active Ingredients
ColoFlax® contains three proprietary blends that work synergistically to provide a complete solution for your digestive health. It's a high-fiber, antioxidant-rich, great-tasting gummy that supplies your body with healthy bacteria (probiotics) and the nutrients they need to thrive (prebiotics).

With ColoFlax®, total digestive health is as easy as 1, 2, 3:

1: ColoFlax® – A mixture of soluble and insoluble fibers (Flaxseed, Arabinogalactan, Inulin) containing 5g of total dietary fiber.

2: ColoBiome™ – A carefully formulated blend of bacterial strains (Lactobacillus Acidophilus, L. Plantarum, L. Brevis, and B. Bifidum) to boost your body's defenses.

3: ColoShield™ – Three powerful antioxidants (Elderberry, Turmeric, Black Currant) that support immunity, reduce inflammation, and provide health benefits throughout the body.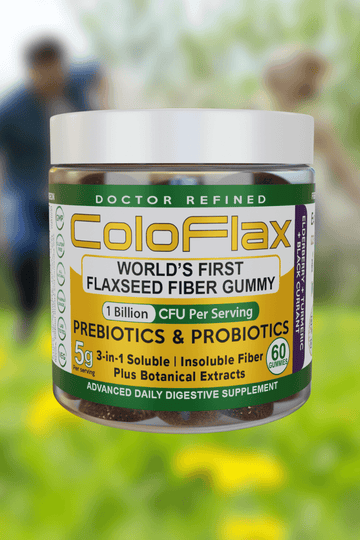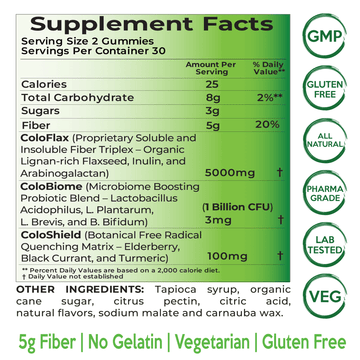 Dive into our blend of ColoFlax Proprietary Soluble and Insoluble Fiber Triplex, ColoBiome Microbiome Boosting Probiotic Blend, and ColoShield Botanical Free Radical Quenching Matrix. Plus, enjoy the natural goodness of tapioca syrup, organic cane sugar, and more.
Ingredients
ColoFlax Proprietary Soluble and Insoluble Fiber Triplex (5000mg) - Organic Lignan-rich Flaxseed, Inulin, and Arabinogalactan, ColoBiome Microbiome Boosting Probiotic Blend (3mg) - Lactobacillus Acidophilus, L. Plantarum, L. Brevis, and B. Bifidium - 1 Billion CFU, ColoShield Botanical Free Radical Quenching Matrix (100mg) - Elderberry, Black Currant, and Turmeric.
Other ingredients - Tapoica syrup, organic cane sugar, citrus pectin, citric acid, natural flavors, sodium malate and carnauba wax.

Directions
Usage Guide: Begin with one ColoFlax® gummy daily. Gradually increase to two gummies per day for optimal results. Should any discomfort arise, please seek medical advice.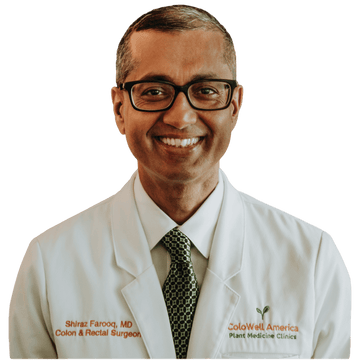 Dr. Farooq, Colorectal Surgeon
Tampa, Florida
Refined by a Practitioner
• #1 FLAXSEED FIBER to help your gastrointestinal system
• Power-packed with Immune Boosting Vegetarian Ingredients
• Refined formulations for effectiveness
Doctors

ColoFlax
My patients love ColoFlax!
"As a Cardiologist, I've been recommending ColoFlax to my patients who are looking for a way to improve their heart health. These fiber gummies are an easy and delicious way to get the benefits of flaxseed without having to worry about masking taste or texture. I'm excited to see how they help my patients improve their heart health."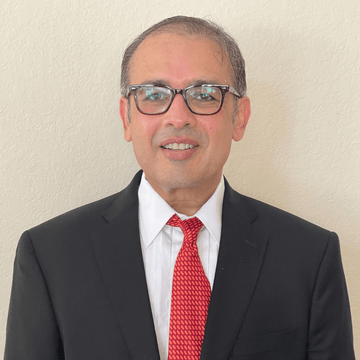 ColoFlax Preferred!
"I've been taking ColoFlax flaxseed fiber gummies and I love them! They're a convenient way to get my daily dose of fiber, plus some extra nutrients, and they taste great too. I would definitely recommend them to anyone looking for an easy way to add more soluble and insoluble fiber to their diet."
My family loves ColoFlax Fiber Gummies!
"I'm a Neurologist and I like to take ColoFlax flaxseed fiber gummies because they are packed with probiotics and antioxidants. I've even started sharing with my kids and family. They're an excellent source of flaxseed fiber, probiotics, and antioxidants all in one gummy. I recommend them daily for the whole family."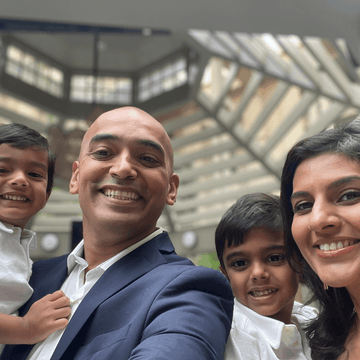 Highly Recommended
"Through my work as a Lifestyle Medicine specialist, I recommend ColoFlax flaxseed fiber gummy supplements to my patients for improving gut health. I've seen firsthand how they help to improve digestion and regularity, and I know that my patients appreciate the ease and great taste of these supplements while benefitting from healthy weight management, healthier blood sugar levels, and more!"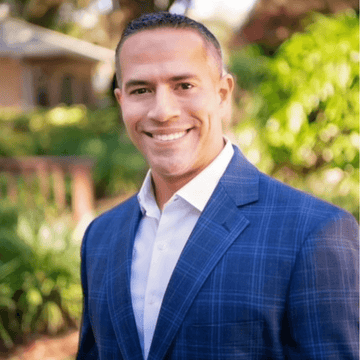 Delicious and Game Changer!
"Wow. Delicious flavor and no unwanted texture. Full of nutrients and three different immune boosting fibers that help maintain good cholesterol levels and support healthy blood pressure in patients. Flaxseed fiber is a game changer and provides an effective alternative to the psyllium and inulin based fiber products in the market. Definitely my top choice."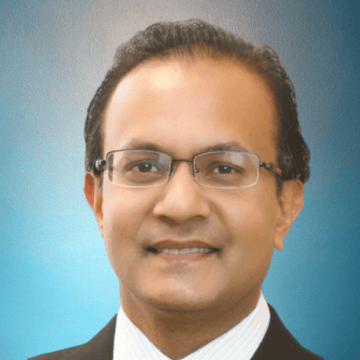 Product Information
FAQs
Our Quality
Shipping & Return
Struggling with Digestive Issues? Choose ColoFlax!
Boost your immune system, balance gut bacteria, and enhance your overall digestive health with ColoFlax's organic lignan-rich prebiotic fiber gummies. A delicious solution for all your digestive concerns.
What Makes ColoFlax Special?
ColoFlax offers a unique blend of soluble and insoluble fibers, potent probiotics, and antioxidant-rich botanical extracts. Experience improved bowel movements, reduced bloating, and numerous other health benefits.
3 Proprietary Blends. 1 Great Flavor. Total Digestive Health.
Soluble and Insoluble Fiber (5g per serving!)

Potent Blend of Probiotics (1 Billion CFUs)

Antioxidant-Rich Botanical Extracts

High in Omega-3s

Great Tasting Gummies

Gluten-Free
Dive Deeper into ColoFlax's Ingredients
From the superfood Turmeric to the nutrient-packed Flaxseed, ColoFlax combines the best ingredients for your gut. With added benefits from Inulin, Arabinogalactan, and Elderberry, it's a complete package for your digestive health.
More regular bowel movements

Less gas, bloating, and discomfort

Supports a healthy immune system

Improved cholesterol and blood sugar support


Supports healthy hair, skin, and nails*
Discover the power of our Flaxseed Fiber Gummies tailored for those seeking the best in Digestive Health Supplements. ColoFlax's unique formula stands out in the market of Gluten-Free Gummies, combining the antioxidant-rich benefits of Elderberry and Turmeric. Every bite of our gummies not only offers deliciousness but also acts as a potent Digestive Support. Dive into a world where health meets taste with ColoFlax Digestive Support gummies, and experience a transformative journey for your gut health.
*THESE STATEMENTS HAVE NOT BEEN EVALUATED BY THE FOOD AND DRUG ADMINISTRATION. THIS PRODUCT IS NOT INTENDED TO DIAGNOSE, TREAT, CURE, OR PREVENT ANY DISEASE.
Where are Your Ingredients Sourced?
Every bottle of ColoFlax® is 100% USA-made. We manufacture our products in a US-based, GMP-certified facility.
Is ColoFlax® Vegetarian?
Yes! ColoFlax doesn't contain any gelatin and is 100% vegetarian friendly.
Is ColoFlax® Plant-based?
ColoFlax® is all-vegetarian and plant-based. We do not use any artificial sweeteners, flavorings, or preservatives. All of our ingredients are naturally sourced and pharmaceutical grade.
What are Probiotics?
Probiotics are healthy bacteria that live in your gut. You can find them in naturally fermented foods, as well as in ColoFlax® and other supplements. If you have a diet high in processed food or have recently taken antibiotics, you may benefit more from taking probiotics. However, everyone can benefit from taking probiotics.
What is Lignan-Rich Flaxseed?
Lignans are a type of antioxidant found in a variety of foodstuffs, with flaxseed being the most abundant source. They have been linked to an array of health benefits and could help to promote heart and digestive health. They may even reduce your risk of developing certain types of cancer.
What is Inulin?
Soluble fibers, like inulin, help to slow the passage of waste and may assist in lowering blood cholesterol and glucose. It's also a prebiotic, which means it provides nutrients for the healthy bacteria in your gut.
What is Arabinogalactan?
Arabinogalactan is a powerful prebiotic linked to an array of health benefits. It powers the positive bacteria in your gut and supports immune health.
How Much Fiber Does ColoFlax® Contain?
A single serving of ColoFlax® contains 5g of soluble and insoluble fiber, which is around 20% of your recommended daily value.
How Much ColoFlax® Should I Take?
Two gummies of ColoFlax® is all you need to reap the benefits of this daily digestive aid. It will boost your fiber intake and provide you with an assortment of antioxidants, prebiotics, probiotics, and healthy fats.
How Long is a Subscription?
A ColoFlax® subscription runs for 4 weeks, so if you take 1 serving per day, you'll receive another bottle just as you're running low. If you have missed a few days and don't need to restock just yet, you can delay your subscription.
Can I Benefit from Taking ColoFlax®?
Everyone can benefit from taking ColoFlax®. You don't need to be constipated or have diarrhea, and you definitely don't need to be struggling with any kind of bowel inflammation.
According to the American Heart Association, just 5% of Americans consume enough fiber, and if your fiber is low, there's a good chance that you'll be starved of probiotics and prebiotics as well.
A daily serving of ColoFlax® can help you to increase those numbers and maintain a healthy digestive tract.
Can I Get Free Shipping?
All orders over $100 are shipped free-of-charge across the continental United States.
Quality is always our number 1 priority.
We're not just a supplement company. We are a doctor-owned, consumer-first brand devoted to your digestive health, and our product is a reflection of that.
ColoFlax is produced in a GMP facility, which means it abides by regulations set by the Food and Drug Administration (FDA). We use only pharmaceutical-grade ingredients (also approved by the FDA) sourced from the United States, ensuring that every gummy is consistently of the highest purity.
What Does ColoFlax Contain
ColoFlax is an easier and tastier way to reap the benefits of flaxseed. But there's much more to this product than a little flax.
ColoFlax gummies contain three proprietary blends: ColoFlax®, ColoBiome™, and ColoShield™. Individually, they can target specific issues and deficiencies; together, they provide total gut health.
ColoFlax®: Lignan-rich flaxseed forms the bulk of this fiber-rich, digestive-supporting complex, but it also contains arabinogalactan and inulin for a blend of soluble fiber, insoluble fiber, and prebiotics.
ColoBiome™: A blend of potent probiotics (Lactobacillus Acidophilus, L. Plantarum, L. Brevis, and B. Bifidum) containing over 1 billion colony forming units (CFUs). These healthy bacteria are anti-pathogenic and provide a number of health benefits.
ColoShield™: A triple-matrix of botanical extracts chosen for their high antioxidant content, including elderberry, black currant, and turmeric.
Why Should You Choose ColoFlax?
The world's first flaxseed fiber gummy that contains soluble and insoluble fiber
A blend of fiber, prebiotics, probiotics, and botanical extracts
Made in a GMP-certified facility
Uses only pharmaceutical-grade ingredients
A delicious and convenient way to improve your digestive health
100% USA-made
Backed by an experienced colorectal surgeon
How Was ColoFlax Developed?
The inception of ColoFlax can be traced as far back as 2013. That's when the name first came to Dr. Farooq. After ruminating for a few years—and gaining even more insights into how flaxseed could benefit digestive health—Dr. Farooq began putting the pieces together.
It took many months of preparation and formulation to conceptualize what Dr. Farooq considered to be the perfect product, but even that wasn't the end of the journey.
After coming up with the ColoFlax formula, attention shifted to the actual gummy.
The taste, texture, consistency—everything had to be right. It couldn't be so sweet that it would hurt your teeth. It couldn't be so sticky that you'd be picking bits of gummy out of your fillings for the rest of the morning.
It had to be easy to eat and have well-rounded health benefits for you too.
The quality and origin of the ingredients was just as important as the flavor and effects.
We didn't want to use gelatin, as it would rule out vegetarians. We dismissed honey, due to the risks posed to infants. Artificial sweeteners were also not an option—it's a vegetarian plant-based product, after all.
In total, it took over 1.5 years to get the formula right.
That's why we can confidently say that we have the best, most advanced flaxseed fiber gummy and digestive supplement on the market.
FREE Shipping within the continental U.S. on all orders $100+.
Shipping cost is based on weight. Just add products to your cart and use the Shipping Calculator to see the shipping price.
We want you to be 100% satisfied with your purchase. Items can be returned or exchanged within 30 days of delivery.